Erin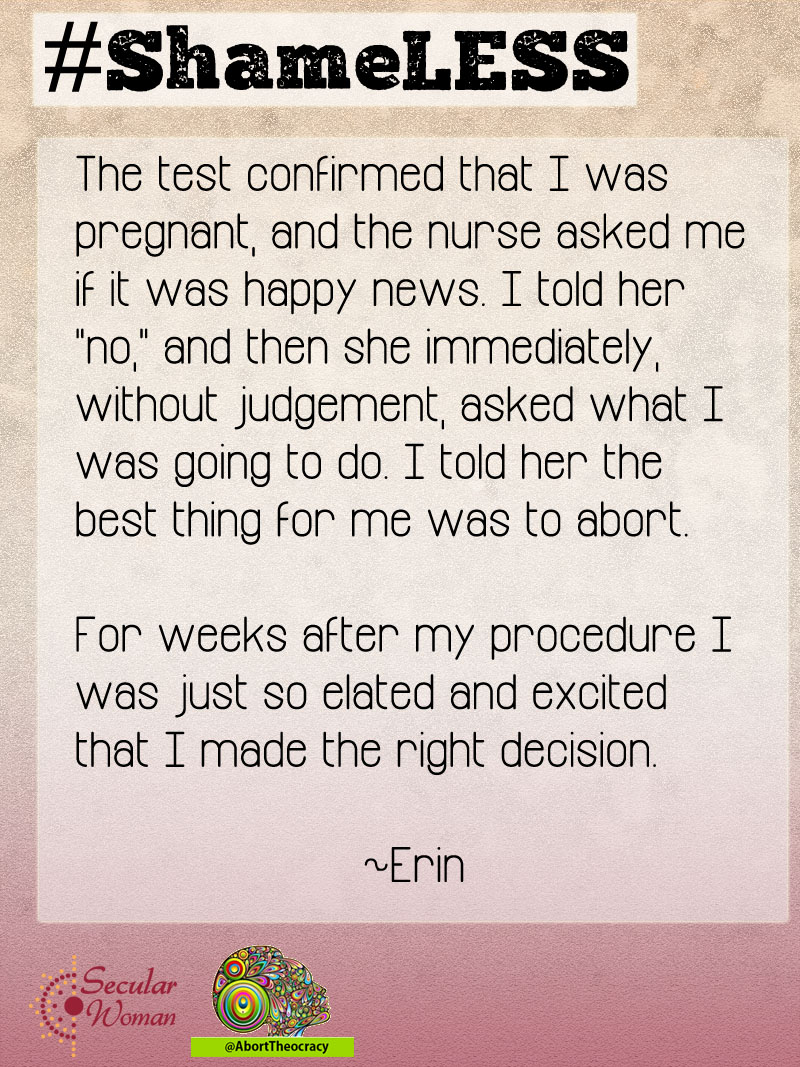 It started when my boyfriend and I got together, well, actually before we were even officially together. We had "the Talk", you know, the one that's all about what happens when and if you get pregnant. We both decided to abort, that would be the best thing for us.
A year and a half later we learned that I was pregnant when I realized that the flu should not last four weeks. Yes, I cried, but I was more mad at myself for getting pregnant, not for what I was going to do.
I went to my local Health Unit and I got a second test just to be sure. It confirmed that I was pregnant and the nurse asked me if it was happy news. I told her "no," and then she immediately, without judgement, asked what I was going to do. I told her the best thing for me was to abort. The nurse then looked on her computer for the next available appointment for an ultrasound, booked the appointment, and said "See you then!"
While I was at my ultrasound appointment I learned I was eight weeks along and the nurse booked the appointment for my procedure.
A week later: I'm still puking like a dog and we go to the city. We had to make almost fifty pit stops just so I could get sick. At my pre-op on the first day the doctor had to put a 'tent' inside to keep my cervix open and I will tell you it made me ill and it hurt, but that was really the only painful thing about the procedure. Anyway, I was even more violently ill than before but I think it was because I was so sick to begin with.
I go into my appointment the next day and all the nurses and doctors introduced themselves by name and told me everything they were going to do and just walked me through it all until I fell asleep from the gas. When I woke up I wasn't pregnant anymore. The recovery was more or less a really long and heavy period.
For weeks after my procedure I was just so elated and excited that I made the right decision. So don't be afraid or ashamed of abortion: it's really a good thing in that time of need.
 ~Erin